Stars Come Out To Celebrate The Bee Gees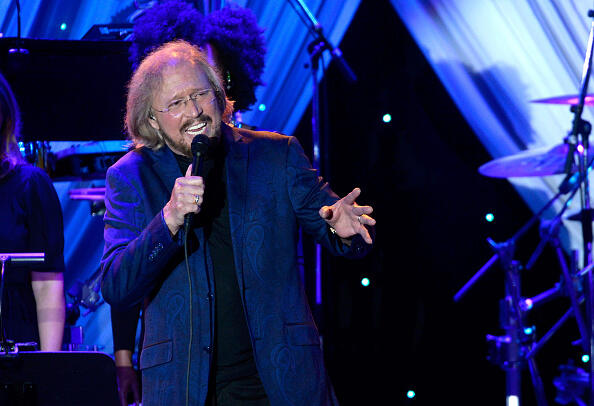 Four decades after breaking countless records, today's generation gets to appreciate one of the most successful movie soundtracks in history.
John Travolta finally graduated from high school (we think) on TV's "Welcome Back Kotter and moved on to the starring role in the box office smash, "Saturday Night Fever." A huge reason why the movie is celebrated forty years later is the incredible soundtrack featuring the music of the Bee Gees.
Stayin' Alive: A Grammy Salute to the Music of the Bee Gees," marking the 40th anniversary of the album that spent 24 weeks atop the Billboard sales chart in 1977-78 will feature performances by many of today's biggest stars including Keith Urban, Little Big Town, Thomas Rhett, Kelsea Ballerini, Demi Lovato, John Legend, Celine Dion, Ed Sheeran, Keith Urban, Tori Kelly, Pentatonix, DNCE, and many more.
The GRAMMY's tribute to the Bee Gees Sunday night was just a taste of a larger tribute that was recorded earlier this week at the Microsoft Theater in Los Angeles.
The modern-day stars were joined by Bee Gees founding member Barry Gibb this past Tuesday (Valentine's) evening (Feb. 14th) at the Microsoft Theatre in Los Angeles and recorded for broadcast later this year. Barry's brothers Maurice Gibb died in 2003 and Robin Gibb in 2012.
Highlights of the night included Legend, joined by Stevie Wonder on harmonica, performing "How Can You Mend A Broken Heart," DNCE's take on "Night Fever," Demi Lovato performing "If I Can't Have You," and Jason DeRulo being joined by Tavares for "More Than A Woman."
Other performances included: Urban performing 1967's "To Love Somebody," Kelsea Ballerini and Thomas Rhett pairing up for the Dolly Parton/Kenny Rogers hit "Islands in the Stream," which the Bee Gees wrote, and Lovato, Tori Kelly, Little Big Town and Andra Day, performing a tribute to "Saturday Night Fever, just like they did Sunday at the GRAMMYS.
"Stayin' Alive: A Grammy Salute to the Music of the Bee Gees," will air on CBS at a later date.
Source: USA Today