First Time in Oscar History - Wrong Best Picture is Announced!
Warren Beatty has an impressive of hit movies throughout his career. However, he most likely be remembered for his "awkward winning" Oscar moment. Beatty was co-presenter of the evening's final award for Best Pic with Hollywood legend Faye Dunaway. What happened next will go down in Academy Awards history and it has nothing to do with any movie role of his. The actor announced the wrong Best Picture winner, first giving it to "La La Land" before the mistake was realized and the award was rightfully given to "Moonlight."
What's worse, it somehow took a few minutes for the mistake to be corrected. Multiple "La La Land" producers got to thank their moms, wives, and whoever else before having to give the stage, and their awards, to "Moonlight."
OOPS!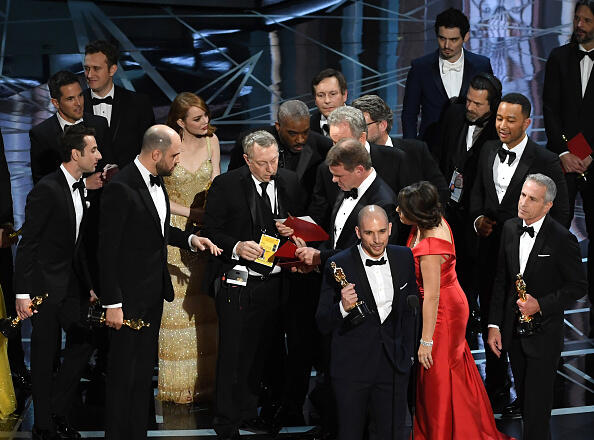 Beatty later told media, "I looked down at the card and thought, 'This is very strange, because it says best actress.' Maybe there was a misprint. I don't know what happened. And that's all I have to say on the subject."
Beatty tried to explain he was given a card for Best Actress, which read "Emma Stone, La La Land." Host Jimmy Kimmel made reference to Steve Harvey, who famously announced the wrong winner at the 2015 Miss Universe pageant. Despite the very awkward moment, Barry Jenkins and the rest of the "Moonlight" team did their time to revel in the win and give their thank yous.
Later backstage, Stone herself said she's not sure how that could have happened. "I was also holding my 'best actress in a leading role' card that entire time," she told reporters. "So whatever story, I don't mean to start stuff, but whatever story that was, I had that card."
Officials from PriceWaterhouseCoopers were not happy. They're in charge of tallying all votes and keeping all of the winner's names top secret until they are announced live on the show. They issued a statement shortly after after the ceremony ended, declaring, ""We sincerely apologize to Moonlight, La La Land, Warren Beatty, Faye Dunaway, and Oscar viewers for the error that was made during the award announcement for Best Picture. The presenters had mistakenly been given the wrong category envelope and when discovered, was immediately corrected. We are currently investigating how this could have happened, and deeply regret that this occurred. We appreciate the grace with which the nominees, the Academy, ABC, and Jimmy Kimmel handled the situation."