Orange County Fair Speedway Celebrates 100 Years! How about some Rodeo Fun...The Orange County Stampede Rodeo Festival, featuring 2-days of events for the whole family in Middletown, NY. The stampede "comes to graze" on July 5th and 6th at the historic Orange County Fairgrounds, This 2-day festival takes place on the fairgrounds' newly constructed (and yet to be named) rodeo paddock with bleacher and lawn seating.
The northeast's most daring Bull Riders face off in a $5,000 to win tournament on Friday night. After the tournament, enjoy Fireworks and Live Music next to the 31st Lap Tavern Bar. Then on Saturday, bring the whole family for a full day of relaxation and Rodeo action with Bareback Riding, Saddle Bronc Riding, Steer Wrestling, Tie-Down Roping, Team Roping, Barrel Racing and more Bullriding in a family cook out style atmosphere with barbeque and Pony Rides for kids!
Friday Night's live music will corral fans from the fairgrounds rodeo ring, over to the 31st Lap Tavern Bar, which is adjacent to the fairgrounds' new live music pavilion. Here rodeo goers can enjoy drink specials at the bar and live music from Pure Prairie League at 7:30PM-9:00PM, and POCO at 9:45PM-11:15PM. The 179th OC Fair is not only New & Improved, but also EXPANDED! July 18th-28th, There's so much fun packed into the 2019 Fair that Orange Motorsports and Entertainment (OME) will need the full footprint of the fairgrounds to fit it all in. At one time in its 100+ years history, the OC Fair was the biggest fair in the state, utilizing all 99 acres of the grounds located in the Town of Wallkill.
Fair goers can expect many of their favorite mainstays like an expansive petting zoo, Monster Trucks, rides, great concessions and games. But it's the long awaited return of certain attractions, and the introduction of new ones that have 2019 looking to be the best year yet at the fair. After a 20 year absence, Racing Pigs make their comeback! Fair goers may also be familiar with a returning attraction that features 3 motorcycles at one time, "The Globe of Death" also coming back for 2019. Promising new and exciting events, OME has booked "Knights of Valour" for the 2019 fair. Knights of Valour have been entertaining North American audiences with exciting shows of horsemanship, bravery, and chivalry. This competitive jousting league is sure to thrill fair goers as much as another new attraction "Gator Boys Present – Scales & Teeth". The Gator Boys are best known for their show on Animal Planet, but Jimmy Riffle and his road show crew are bringing a unique alligator wrestling and wildlife experience to you. They offer an up close and personal view with some of Florida's most loved but also feared reptiles from the American Alligator to the Eastern Diamondback Rattlesnake.
The new events don't end there, 2019 also sees the introduction of "Redneck Warrior", an obstacle course that highlights your basic Redneck Skills. Also performing several times throughout the 10 day fair is "The Human Cannonball" (it's what it sounds like!). Our newest tradition, the fair parade, will make its comeback this year with jugglers, costumed characters, clowns, musicians and more, winding their way around the fairgrounds and entertaining families. In keeping with the traditions of the fair's agricultural roots, 2019 will see the introduction of the new "Milking Parlor" where children can interact with farmers and their cows, learning how to milk them and more about the process.
Also coming back in 2019 are Tractor Pulls! Exhibits from the FFA will also be featured. In an attempt to have something for everyone, the fair also features dozens of concerts, most FREE with fair admission.
For a full lineup of the dozens of live performances at the fair, visit their website orangecountyfair.com or omeevents.com. There are puppet shows, magic shows and more for the kids, stand-up comedy for the whole family and at least one band that is a must see for anyone, you've got to check out the whole lineup to really get an idea of how much entertainment is packed into these 10 days!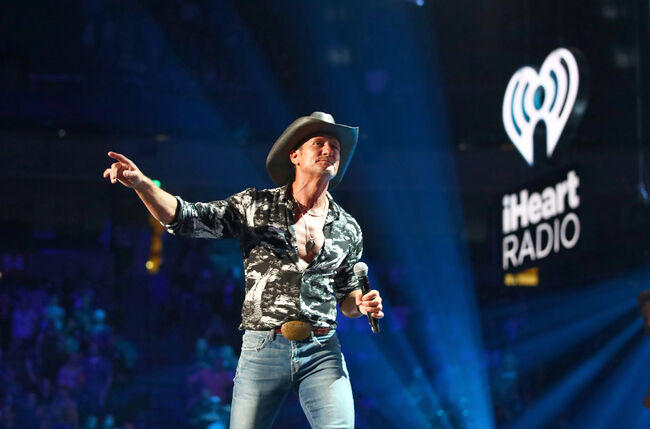 Also as previously reported Tim McGraw will be there this summer!!! Wednesday, August 14th to be exact at Orange County Fair Speedway at 8pm
Tickets are available on Saturday at 10 am at ticketmaster.com and the OC Fair Speedway Box Office and keep listening to win before you can buy with me today and tomorrow on Country 107-3 WRWD!