Celebrities React to the Passing of Actor Bill Paxton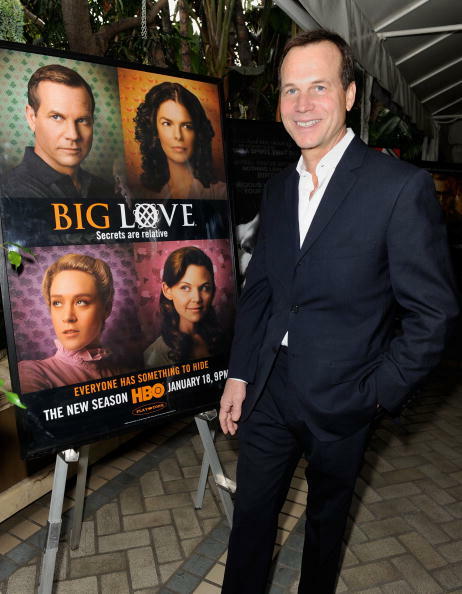 Celebrities are reacting to the passing of actor Bill Paxton. Best known for his roles in Apollo 13, Aliens, and Titanic, Paxton passed away at the age of 61. Sources say following a heart operation, Paxton died from a stroke.
Paxton is survived by two children, James and Lydia, and his wife of nearly 30 years Louise Newbury (pictured below).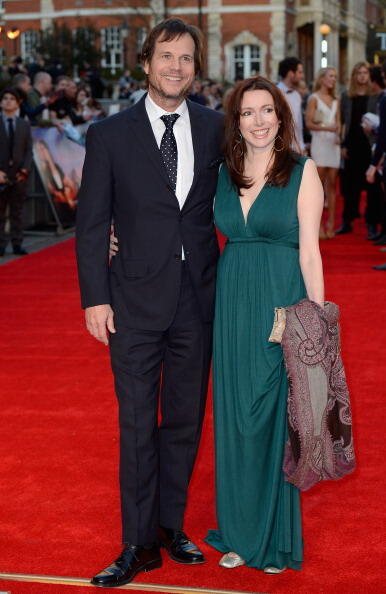 Hollywood stars expressed their sadness on the loss:
Tom Hanks tweeted, "Bill Paxton was, simply, a wonderful man. A wonderful man." Charlize Theron wrote, "You were a great friend to me, Bill. AND one of the finest actors to share a set with. Sending so much love to Bill Paxton's family." "Crushing. #RIPBillPaxton A gr8 talent & spirit. His passion contributed so much 2 #Apollo13 & all his work. We'll miss the hell out of U Bill," shared Ron Howard.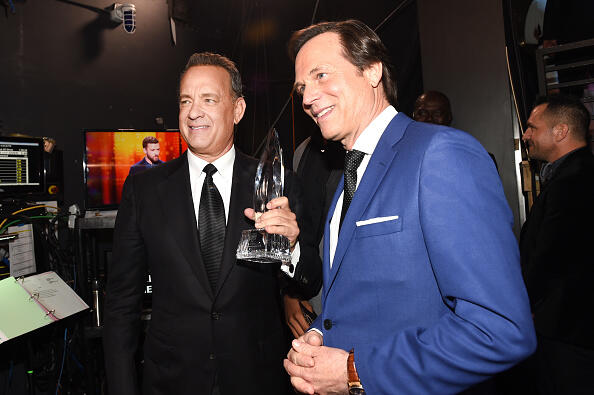 Tom Hanks and Bill Paxton last month at the 2017 People's Choice Awards
Zach Braff stated, "Bill Paxton. A very talented man. As skilled with comedy as he was with drama. Carpe Diem. #rip" Melissa Joan Hart tweeted, "Heartbroken to hear about #BillPaxton passing away! He was one of those actors that you don't think about often but appears in all your favorite films. My years have been filled with him on my screen telling great stories! #RIP #Aliens #Twister #Apollo13 #BigLove" "One of the kindest souls that ever was. We shared some very happy moments on Apollo 13. This is truly devastating. Love to his family," added Bryce Dallas Howard.
Josh Gad wrote, "The loss of #BillPaxton is beyond crushing. Once again, an icon, far too young, gone far too soon. Goodbye Private Hudson." Elijah Wood mourned, "What a lovely, warm and kind human. So sad to hear of Bill Paxton's passing." And William Shatner wrote, "Condolences to the family of Bill Paxton. I just heard the news." "Sad news about Bill P. Really nice guy," shared Michael Keaton.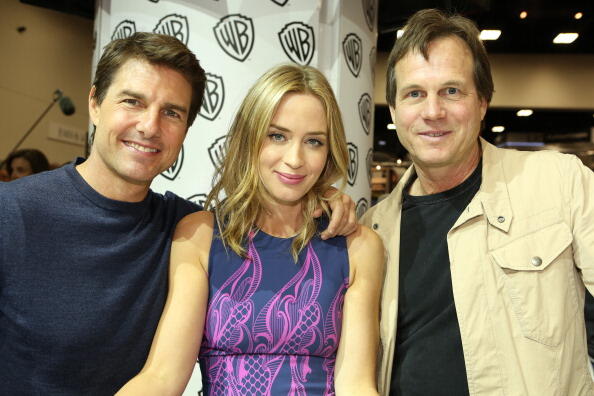 (L-R) Tom Cruise, Emily Blunt and Bill Paxton
Eliza Dushku felt, "A tragic & shocking loss… such a kind & talented man, indeed #BillPaxton #truelies #fam." Meanwhile Carson Daly shared, "So incredibly sad. Praying for his family. Wow." Aaron Paul offered, "Bill Paxton was hands down one of the greatest guys that I have ever met. I feel lucky to have called him my friend. Bill, I love you. RIP."
Tom Arnold tweeted, "This man was a prince. Great actor. Never an unkind word. Sorry for his family & all of us who loved & had the honor to know/work with Bill." "I love you Bill. #RIPBillPaxton," stated Joel McHale. Debbie Messing noted, "So tragic the passing of Bill Paxton. Heartbreaking. What a talent, with so many more years of art to share with us. My love to his family."
Marlee Matlin expressed, "Only 61! Sad to read on #Oscars day that talented actor Bill Paxton has passed. My thoughts & prayers to his family." Rob Lowe wrote, "Devastated by the sudden loss of my close friend and one of the finest actors in the business, Bill Paxton. Renaissance man, raconteur and uniquely American national treasure. His filmography speaks for itself. His friendship was a blessing. My love to Bunny, James and Lydia."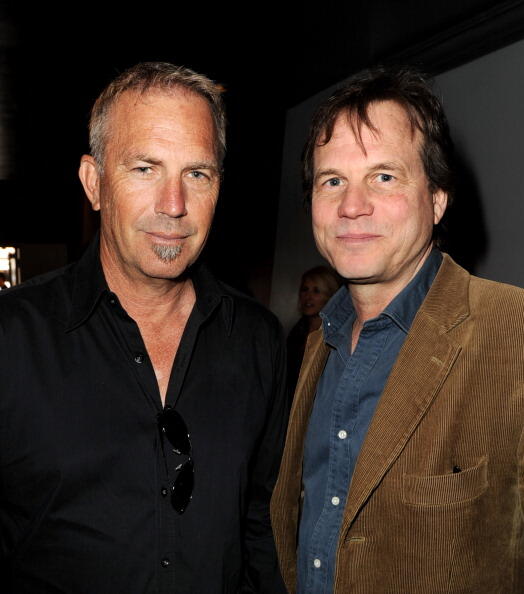 Katie Couric offered, "Bill Paxton was gracious, fun and down to earth. Sent flowers once to thank me for an interview. A lovely, thoughtful, talented man. So sad." Jamie Lee Curtis expressed, "Nooooo. Bill Paxton is gone. Such a funny, talented, loving human. Louise & the children & family my love & support 2 u. #truelies." And Bette Wilder wrote, "So profoundly sorry to hear that #BillPaxton has died. My family & I were such fans; we send our condolences and deepest sympathy to his."
Bryan Cranston mourned, "I'm devastated about the passing of Bill Paxton. He was always so kind & supportive. Funny & wise. A talented actor whom I will miss. RIP." "Really bummed to hear about Bill Paxton this morning. Great guy, energy and always smilin'. Strength to the Paxton family. #restinlove," shared Dwayne Johnson. And Kevin Bacon tweeted, "Some of my favorite memories are of floating around in a tiny vessel with big hearted, hilarious, brilliant Bill Paxton. Sad day."
Ashley Tisdale wrote, "Bill Paxton was always my favorite in TiTanic… And every movie he starred in. So sad to hear the news #RIP." Chad Michael Murray said, "Bill Paxton did so much 4 all of us in film, as a man, father & husband. Working with him was truly an honor. We will miss U bud #RIPBILL." And Debra Messing felt, "So tragic the passing of Bill Paxton. Heartbreaking. What a talent, with so many more years of art to share with us. My love to his family."
Source: Gossip Cop

Party Marty Mitchell
Want to know more about Party Marty Mitchell? Get their official bio, social pages & articles on Country 107.3 WRWD!
Read more