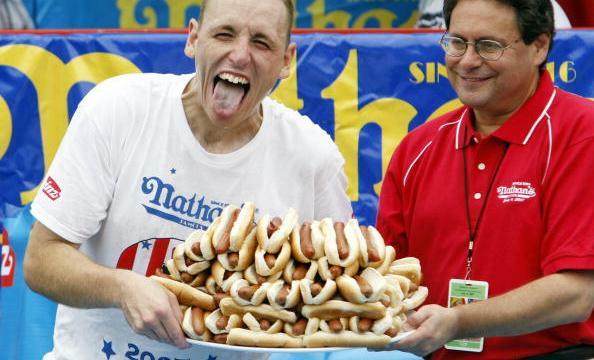 It was a record setting Fourth for Joey Chestnut. He has set a new record and, once again, is the hot dog eating champion. Chestnut captured his 10th Mustard Belt yesterday by eating an event-record 72 hot dogs and buns in 10 minutes to win the 2017 Nathan's Hot Dog Eating Contest at the world famous Nathan's in Brooklyn's Coney Island, NY. The 72 hot dogs and buns are a record number eaten for the competition, which takes place in every year on Independence Day. Chestnut also set the record last year at 70.
Chestnut's consumption of 72 Nathan Dogs totaled 20,160 calories and 1,296 grams of fat and $10K to help pay his medical bills from eating so many hot dogs.
It's the second consecutive triumph for Chestnut, who's won every Fourth of July showcase since 2007 except for the 2015 competition won by Matt "The Megatoad" Stonie.
Coming in second, Carmen Cincotti – with 62 hot dogs and Matt Stonie, who chowed down on 48.
On the women's side, Miki Sudo defended her title by wolfing down 41 hot dogs – her personal best – and became a four-time Mustard Belt champ. Michelle Lesco, finished second with 32½ swallowed and Sonya "Black Widow" Thomas was third with 30. The contest has been held at Coney Island in New York since 1972.
73-year-old Rich "The Locust" LeFevre. He may have come in 10th, but with 29 dogs and buns down, he won the fan vote for sure. While he didn't win yesterday, he has taken home titles in eating pizza, Spam, Huevos Rancheros and much more. And by the way? His wife, Carlene, is also a competitive eater.
Source: Nathan's