Easter Dinner Will Cost More This Year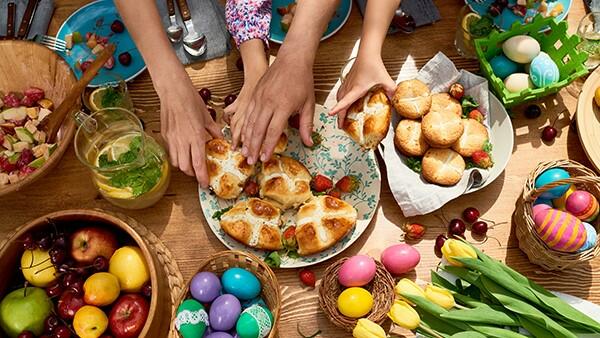 With Easter coming up this Sunday, many people have begun their shopping for Easter dinner. Shoppers may have noticed the food bill is a little higher than last year.
Prices for typical Easter meal fare have gone up this year. The average $51.05 is an increase of $1.05, or 2%, from last year according to the American Farm Bureau Federation's Spring Picnic Marketbasket Survey.
The AFB says it's enough for 16 items for your meal, with nine of those items going up in price from last year, and seven going down.
Your $51.05 meal includes:
Eggs - up 37% to $1.80 per dozen
Orange Juice – up 8% to $3.46 per half-gallon
Bagged Salad - up 4% to $2.42 per pound
Deli Ham - up 3% to $5.59 per pound
Vegetable Oil - Up 2% to $2.61 for a 32-ounce bottle
Shredded Cheddar Cheese - up 2% to $4.20 per pound
Ground Chuck - up 2% to $4.01 per pound
Bacon - up 2% to $4.75 per pound
Sirloin Tip Roast - up 2% to $5.12 per pound
White Bread - down 7% to $1.60 per 20-ounce loaf
Whole Milk - down 6 % to $3.07 per gallon
Chicken Breast - down 2% to $3.10 per pound
Toasted Oat Cereal - down 2% to $2.78 for a 9-ounce box
Apples - down 1% to $1.53 per pound
Flour - down less than 1% to $2.34 for a 5-pound bag
Potatoes - down less than 1% to $2.67 for a 5-pound bag

Party Marty Mitchell
Want to know more about Party Marty Mitchell? Get their official bio, social pages & articles on Country 107.3 WRWD!
Read more